News & Events
''Kratos Engineering in collaboration with PTC invites you to be part of "Insight Creo 3.0"'
Date: 16th Jan 2015,
Venue:
Hotel Le Royce, Bund Garden Road Pune, Maharashtra 411001
With Creo 3.0, PTC introduces ground breaking Unite technology.
Unite addresses the data and process-related challenges of CAD consolidation. By enabling designers to convert data 'as needed, when needed', and only converting the data that requires modification, organizations can save a tremendous amount of effort and cost, Unite technology enables designers to create and protect design intent between PTC Creo and other CAD data. This both significantly reduces the efforts needed to maintain design integrity and enables collaboration to take place earlier and more often in the design process.
Kratos Engineering and IT Solutions Pvt Ltd
"Kratos" has been recently appointed as national business partner by prominent engineering software OEMS like PTC, Delcam, Moldex and CT Core Technologie Germany & MSC Software Corporation USA.

As one of the world's largest and fastest-growing technology companies, PTC helps manufacturing leaders address these transformative forces to achieve and sustain competitive advantage. Our solutions for Product Lifecycle Management (PLM), Computer Aided Design (CAD), Application Lifecycle Management (ALM), Supply Chain Management (SCM) and Service enable process transformation by empowering you to aggregate, analyze, and deploy product information to drive the strategy and dynamic decision-making processes on which your success depends. Our solutions help you optimize the activities within individual functions of your organization, and aligned across your entire enterprise: from engineering to supply chain and manufacturing, and sales and service.  


For over 30 years Delcam has developed products to aid in the production of complex shapes and tooling. It is now one of the world's leading suppliers of advanced CADCAM software solutions for industries such as aerospace, automotive, electrical appliance, footwear, ceramics, packaging, sign making, jewelry, toys and sporting equipment.
A recent report into the mold, tool and die sector from leading US industry analysts CIMdata found that Delcam are the No. 1 specialist CADCAM supplier in North America and Europe, and No.3 in Asia. Delcam has more than 125 local support offices in more than 80 countries spanning the world
Visit: www.delcam.com

Moldex3D is the world leading CAE product for the plastic injection molding industry. With the best-in-class analysis technology, Moldex3D can help you carry out in-depth simulation of the widest range of injection molding processes  and to optimize product designs and manufacturability. In addition, its high compatibility and adaptability have provided users with instant connection to mainstream CAD systems, generating a flexible simulation-driven design platform.

Features
•CAD-Embedded Pre-Processing
•Superior Automatic 3D Mesh Engine
•High Resolution 3D Mesh Technology
•High Performance Parallel Computing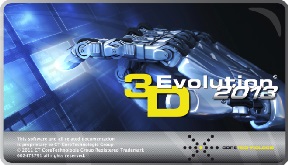 MSC Software makes products that enable engineers to validate and optimize their designs using virtual prototypes. Customers in almost every part of manufacturing use our software to complement, and in some cases even replace
the physical prototype "build and test" process that has traditionally been used in product design.
As a trusted partner, MSC Software helps companies improve quality, save time and reduce costs associated with design and test of manufactured products. Our products accurately and reliably predict how products will behave in the real world to help engineers design more innovative products – quickly and cost effectively.
MSC Software's technology is used by leading manufacturers for linear and nonlinear finite element analysis (FEA), acoustics, fluid-structure interaction (FSI), multi-physics, optimization, fatigue and durability, multi-body dynamics, and control systems simulation.
MSC pioneered many of the technologies that are now relied upon by industry to analyze and predict stress and strain, vibration & dynamics, acoustics, and thermal analysis in our flagship product, MSC Nastran.
For Product link use the information which is displayed on below link
http://www.mscsoftware.com/en-in/msc-product-portfolio



AFDEX is an Intelligent Metal Forming simulation tool, developed in Korea in collaboration with GNU university, extensively used in in Japan, Korea & China. It is based on Rigid or Elasto thermo-visco-plastic finite element analysis using quadrilateral/ tetrahedral elements thus providing faster & higher accuracy results.

The software addresses a wide range of forging processes like, Hot / Cold closed die forging, flash less forging, open die forging, automatic multi stage forging, ring rolling, roll forging, roll piercing, cross wedge forging, Rotary forging, thread rolling, roll forging, roll piercing, cross wedge forging, Rotary forging, thread rolling & many more special areas. The company believes in constant innovation to widen scope of simulation & also improve performance accuracy.


AFDEX can be characterized by its strong functions of :

•User ease & friendliness
•Process optimization aids in
•Reduced flash / flash less forging
•Optimized/ near net shape part
•Grain flow line prediction at required cross-sectional.
•Fully automatic multi stage simulation process
•Indication of likely Die fracture & high wear areas
•Powerful material identification for efficient results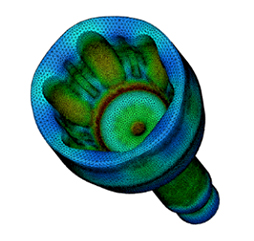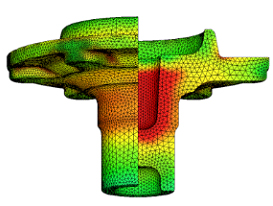 For more information visit  www.afdex.com